Dieters Motivational Rose Locket
Whenever a craving hits just open this locket and it will remind you ....
Nothing tastes as good as thin feels ..... and before you know it the craving will pass :)
If your battling weight loss this is perfect in an emergency. You deserve it.
Available in silver plate, gold finish and sterling silver - click on image to see more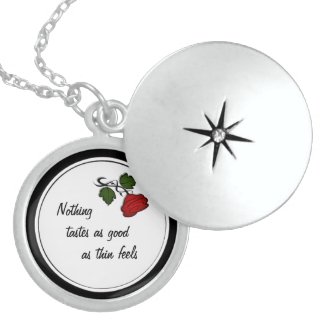 Use this great widget to find out what your body mass index. Just enter your height and weight and let the widget do the math.
Poodwaddle.com
BMI Ranges:
Underweight < 20
Ideal 20-25
Overweight 25-30
Obese > 30
Just to toot my own horn my BMI is Ideal